The
Underwater Tour
Awards
2021
NEW CATEGORIES FOR CREATIVES AND ECO HEROS
Eco Hero
Individuals that were nomintated for  going above and beyond to consistently encourage positive ecological change within the community.
From the Heart to the Ocean
From the Heart to the Ocean – The Max Benjamin Award is open to all creatives working in any medium, who are inspired by the waterline, drawn by the sounds of the seas, its moods, its endless horizons and caressing waves, and the critters that call it home.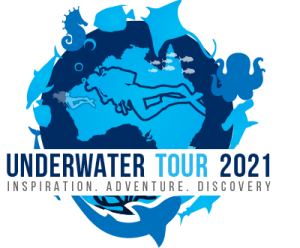 We raised the curtain for

90 mins of inspiration and discovery
On the Sunday evening 23rd May, we raised the curtain for our first ever live broadcast show featuring international guest stars, presenters and partners from the film studio.  A variety show with a little bit of everything: story-showing, tales of discovery, adventure, research and underwater photography!
We asked the big questions…Sinker or floater? Who am I?  And of course… does size really matter?
We produced and premiered 3 spanking new Spotlight Features… short films featuring our guest stars on a topic they love.
We launched the Show's Underwater Tour Quiz with

$20,000 of enviable adventures and fabulous Partner products to be won by Silver and Gold ticket holders.  Entry to the Quiz has closed.



And we announced the hotly contested winners of the 2021 Underwater Tour Awards.
2021 Underwater Tour
Show… LIVE