The
Underwater Tour
Awards
2021
NEW CATEGORIES FOR CREATIVES AND ECO HEROS
Eco Hero
Nominate an individual you believe is going above and beyond to consistently encourage positive ecological change within the community.
From the Heart to the Ocean
From the Heart to the Ocean – The Max Benjamin Award is open to all creatives working in any medium, who are inspired by the waterline, drawn by the sounds of the seas, its moods, its endless horizons and caressing waves, and the critters that call it home.
Guru Awards
Open to all photographers, The Guru Awards celebrate photography from above and below the surface of our marine and freshwater environments. The awards feature 5 Categories, a People's Choice Award and the coveted Guru Grand Prize.
Don't forget to join us for our Underwater Tour event, where the concept of an annual awards contest was first conceived!
Since 2018 and usually held in theatres in the major state capitals around Australia, our aim each year is to bring you a collective of ethical internationally acclaimed underwater photographers and marine scientists, all top in their fields, traveling together to showcase, present and share their incredible stories of discovery from behind the lens.
Announcing this year's event…..
BROADCAST LIVE
23 May 2021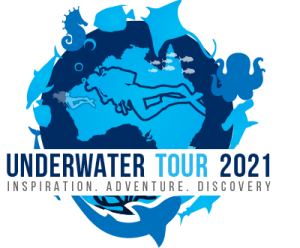 Inspiration and discovery
A variety talk show like no other! 
Enjoy 90 mins of broadcast quality entertainment
Join us and our stellar array of international guest stars, hosts and partners in the film studio as we raise the curtain for one unmissable show.  With the help of a little wizardry, you can enjoy wonderful story-showing, tales of discovery, adventure and behind the scenes antics where ever you are.
There'll be insights and chat addressing big topics such as: What is a poo plug?  Who am I?  And of course… does size really matter?
We'll send you 3 spanking new Spotlight Features in advance… short films featuring our guest stars on a topic they love.
There are $20,000 of enviable adventures and fabulous Partner products to be won by Silver and Gold ticket holders in the Show's Underwater Tour Quiz.
We'll also announce the winners of the 2021 Underwater Tour Awards, so don your gown or black tie, or both, take a giant stride onto your comfy sofa and join us.  You could win a door prize!
There are 3 ticket types… Free, Silver and Gold.