Guru Awards
Frequently Asked Questions
How do I submit my entries?
How do I name my files?
All Files need to be names as Follows
SURNAME_FIRSTNAME_CategoryAbbrevation_file number.jpg
CategoryAbbrevation is the abbreviation of the Category you wish to enter the image under in the competition. 
Competition Categories (CategoryAbbrevation)
(UC) Underwater Characters

(US) Underwater Scenes

(AA) Aquatic Abstract

(TS) Topside Scenes

(UBW) Underwater Black & White
As an example of your file might be Brown_James_UC_1.jpg if you were to enter in the Underwater Characters Category.
How do I know if my submissions have been received?
Once your files have been uploaded and saved, they are automatically included in the competition. You will receive an email confirming the upload is successful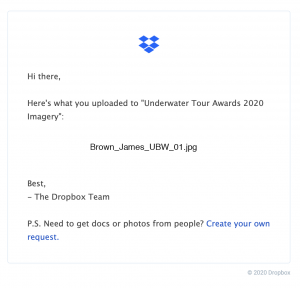 Can I enter photo composites and digital manipulations?
Work that does not comply with the image specifications of Section 5 of the Guru Awards' Terms and Conditions is considered digital art, and is very welcome in the broad artistic category "From the Heart to the Ocean". 
Can backscatter be removed?
Removing backscatter is permitted but not to the extent that it alters the authenticity of the photo. So for example, the judges would not expect to see a raw file full of backscatter and an entry without any at all.
How do I qualify for the The Guru Grand Prize?
By entering 1 entry in each of the following categories, you will automatically be eligible for the Guru Grand Prize.
Underwater Characters
Underwater Scenes
Aquatic Abstract
Topside Scenes
Underwater Black and White
Can I take photos in a Swimming Pool?
No – all photography must be taken in natural Fresh or Salt bodies of water. 
How is the competition judged?
We appoint a panel of judges to chair evaluate all entries. Each submission is reviewed anonymously. The panel will be looking for photographic excellence, artistic merit, relevance, to themes, freshness of composition, technical proficiency, innovation, narrative form and ethical practice, so this should be reflected in all submissions
Can I change my selection of entries once they have been uploaded ?
Is the prize open to photographers who reside outside of Australia?
Yes, open to all photographers worldwide.
Are there any age restrictions?
No, however entrants who are under the age of 18 at the date of close of entries are not eligible for the Overall Prize.
What happens if my submission is corrupted or unreadable?
If your submission is corrupted or unreadable by us, we will endeavour to contact you in order to arrange for the image to be re-sent.
Further Assistance
If you continue to experience problems during the submission of your entries, then please contact us at the following email address: awards@underwatertour.com.au
We will endeavour to respond to your email as soon as possible. However please note that in the days leading up to the end-date of the competition, the increased amount of internet traffic and submissions may mean that both the speed of our submission system and our ability to respond to technical issues will be reduced. We recommend initiating submission of entries early in the competition so that if you do come across any technical problems, our staff will have plenty of time to help you with any problems you might experience.